Don Benito has presented the footballer Pedro Porro with the City's Golden Shield, thus recognizing one of its most important sports ambassadors in recent years. A nice tribute that, surely, will not be the last. The next could well be naming a soccer field in his hometown; However, a better idea would be for his name to be linked to a park, square or street, where he recognizes that he kicked the ball for the first time. A dreamer before he was a footballer, the audacity and self-confidence of his game comes from Chile Street, which saw him grow up under the watchful eye of his grandparents. It is possible that one day you will see a plaque with Pedro Porro's name there, but never one of those 'No ball playing' signs.
-What does this golden shield mean to you?
-It is a great pride, working for this is worth it and is a symbol that they value this work. It is something that gives me great strength as well.
-You spend part of your vacation in Don Benito, why not choose another more summery destination?
-Coming here is a bit of a disconnect from everything. It's coming one day and my batteries are already charged. I have all my family here and all my friends, but coming here reminds me a lot of when I played at Gimnástica and also the times of futsal… Everything really, because it is my childhood here and I like to be there for anything. I come with enormous joy because my town will always be my town.
-Football has left you many friends here.
-Yes, this summer I have met many training again and I like it because I have seen people again who have been with me in children's; is very pretty.
-Few days of vacation and being with family.
-I'm looking forward to starting because there have been many weeks without training. I have been on vacation away for a week, but above all I have been with the family who needed it after several bad months due to the death of my grandmother, I needed to be with them. Life is like that, now the season begins and she will always be as she has been until now. She raised me, she was always a fundamental pillar in my life and now she will be even more so; Life takes people who don't deserve it, that's how it is, but she will always be in my heart.
-Also your grandfather.
It is fireproof and fundamental for me. The work that my grandfather has done with me since I was very little is fundamental to being where I am.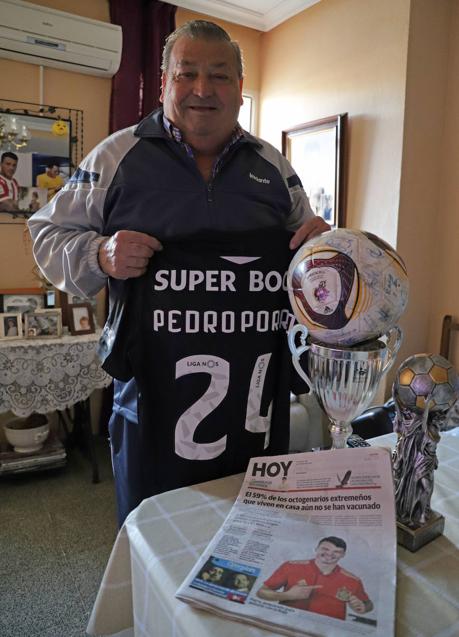 -What memories do you have of that first farewell to Rayo Vallecano?
The first weeks were quite bad and I remember telling my mother that I wanted to go back, that's what I tell you everything. But I remember it as something nice. Later I told my mother 'It's my job and if I have to leave home at 15 to find my life, I'm going to do it.' So it was. The first month was the worst, but they are also good memories when my family came when I was little. I even remember one time when my grandfather, my father and my uncle stayed in a car to sleep when I played for the national team. That is something that I keep in mind every day and it is what makes me push myself forward.
-Also, you are very familiar and you come whenever you have the opportunity.
-When I have days off I come because I am also close by, about three hours away, and the truth is that I disconnect from everything and it makes me recharge my batteries. It's like an oasis for me because we too must have our disconnection. Although it is true that during the season I don't like to disconnect, I like to be focused, that's why I come more, especially in the summer. These days I like to be with friends, go out to dinner and be here remembering old times.
«I have many friends from school, but my usual friends are those from the park; "I am from the neighborhood and the park, a soccer player who came from the street."
-Although they are not that old…
-I have it very recently, it is true (laughs). Since I was little I have liked soccer and I went almost every day to play in the park. I have many friends from school, but my usual friends are those from the park; I am from the neighborhood and the park, a soccer player who came from the street. I have always lived at my grandmother's house, may she rest in peace, and she was always there on Chile Street from a very young age. When I was little my parents worked, that's why I stayed with my grandparents and that's why the strong relationship I have with them.
-Now you meet that street soccer player again thanks to the campus organized in collaboration with the Don Benito Gymnastics, right?
-The first thing is to thank the team for their treatment since I was little and also now helping me with these things, because if it weren't thanks to them I wouldn't be able to do it. I think it is something positive for Gimnástica as well, that they know that I have not forgotten the origins. I have done this so that the children are well, that they enjoy themselves and that they know that I am also a person before a footballer. It is a step that they also have to take if they want to be a footballer and know that they must fight for those dreams they have because they can come true, as is my case. That's why I do it for them to enjoy, so they think that they can also reach a high level and now they are little, but giving them a plus is also good.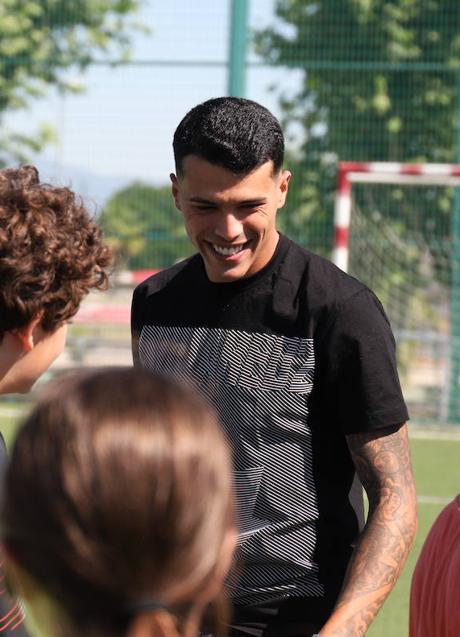 -And enjoy the journey, did you do it?
-Yes, the truth is that I have always enjoyed it. I think that for me soccer is my life, I have always been around a ball and my father would kill him if he didn't take me out to watch soccer (laughs). But I believe that you should enjoy the journey, always keeping your feet on the ground, which is essential, and that tomorrow, if they arrive, which is the most difficult, they know how to stay on track and keep their heads straight, which is the most important. But the first thing is to study and then whatever has to come comes.
-Have you seen yourself reflected in any of them with those Gimnástica t-shirts?
-Of course, because at the end of the day, 6 years ago I had the same dream as them. I have also had these moments and I have seen players with whom I was enthralled. The truth is that I still have it very much in mind and I think I will always keep it in mind.
-In sports, Sporting Lisbon is giving you your greatest joys, right?
-From the first day I arrived at Sporting I knew that it would be one of the most important days of my life for me. He is giving me everything and I am focused there 100%, I hope to start the season well and that it goes well, above all to start on the right foot.
-What feelings do you have about this new season?
-They are good and being a Sporting player after exercising that purchase option is another plus. If that opportunity has come to me it is because I am doing things well, I have to continue like this.
-Do you dream of another call from the Spanish team?
-It is my biggest goal this year, I have others, but the biggest is to go to the World Cup and I am going to work for it, I hope to be on the list.
-What can we say about the Portuguese League?
-People think that it is a slightly lower League, but I think there is also a level. There are six or seven stronger teams, but all the fields are complicated. We are one of those strong teams, we fight every day to win and I think it is a very good League, it is complicated and I know because I play there, all that glitters is not gold.
«Confidence is what makes you grow the most, but also the fact that I am happy there, I am comfortable and I hope it will be that way for a long time»
-But would you like to return to Spain?
-Now I am focused on Sporting, it is what I have to do and then I don't know, it doesn't depend on me because I work on what I have, I am focused on it and I start the season with the same enthusiasm as always and to continue working.
-You have been chosen as the best right back in Portugal for two consecutive seasons.
-Yes, it is because of the confidence I have in Sporting. It has been two years now with that recognition and for me that is a huge source of pride and I also have to thank my teammates and the entire coaching staff because without them it would not have been possible. But it is above all because I am doing things well and I am working, but I already told you that without confidence I am not going anywhere and I hope that it will be like this until 2025 when I have a contract.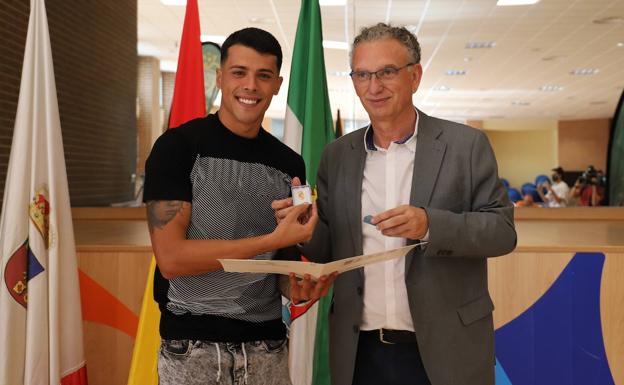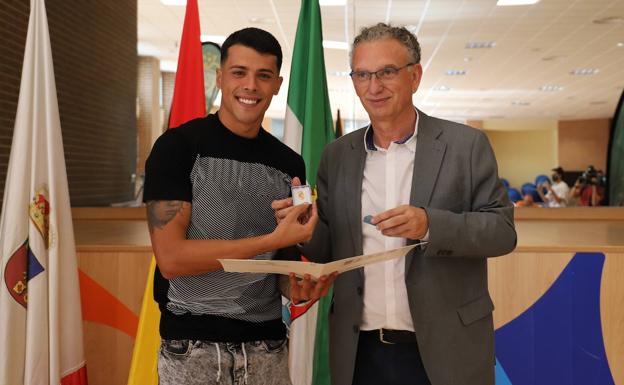 -Is trust the basis for this growth to be so great in these two seasons?
-It is essential because trust is what makes you grow the most, but also the fact that I am happy there, I am comfortable and I hope it stays that way for a long time.
-It is noticeable because you also came from a season in Valladolid where you lacked precisely that confidence.
-Yes, exactly. I came from not playing and for me it was a very hard year, I was very overwhelmed and stressed. But that is already in the past and it can happen in football, although I don't have a single bad memory from there, because I have also learned a lot from that year. Now it's time to be well and think about moving forward.