The RFEF has confirmed the news reported by Diario HOY on February 13, that the Vicente Sanz will not host the matches of the UEFA Men's U19 Elite round scheduled for the month of March. The duels remain in Villanueva de la Serena, but those scheduled in the Dombenitese municipal stadium are moved to the Franscisco de la Hera in Almendralejo.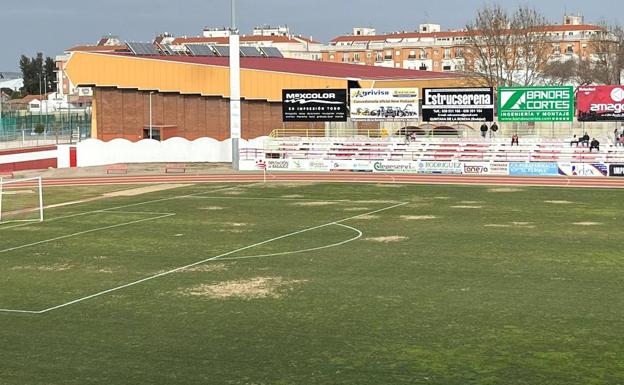 The Spanish National Team has issued a statement to announce the change of venue, citing "logistical reasons" for this decision that the RFEF requested from UEFA. "The chosen facilities meet all the necessary requirements and are in perfect condition for the event," they say about the Francisco de la Hera that will host these meetings that will be held between March 22 and 28.
As TODAY reported, the grass of the Vicente Sanz municipal stadium has been a headache for the Don Benito City Council for months. His condition already forced Don Benito's preseason to be altered this past summer and threatened the UEFA Men's Under-19 Elite round that was going to be held jointly with Villanueva de la Serena as the second venue. However, approval would not have been given to the municipal grass of Dombenita.
Specifically, the claims of the European sports institution implied a total replacement of the grass for these matches. A proposal that would not be accepted by the Badajoz City Council, among other reasons, so as not to harm Don Benito in the complicated moment it is going through, with salvation in the Second RFEF at stake and with several vital matches still to be played in its stadium in the coming weeks.
However, the City Council affirms that work has been carried out for weeks to improve the condition of the grass; among them, the replanting of a large part of the playing field.
Lawn replacement
However, the Sports Department is already working on a project to replace not only the grass, but also the entire irrigation system. But it will be at the end of the season, and not this month as UEFA requires, when this action will be carried out.
In the case of the Villanovense municipal stadium, which will host two Spanish matches in this round, there are also some demands to be met such as the replacement of some specific sods in the areas.
It should be remembered that the Elite round is the competition that determines which seven teams accompany the host in the final phase of the European Championship. The matches will be played from March 22 to 28 with the participation of the U-19 national teams of Spain, Ukraine, Denmark and Luxembourg, all of them members of Group 3. The winners of the seven mini-groups formed for this elite round will join to Malta, as host, in the final phase that will be held from July 3 to 16.