The video game Fortnite has a rating of 12+ from PEGI and T for Teens from the ESRB, meaning it is generally suitable for ages 12 and up. However, it basically consists of a battle with firearms that is not recommended for the little ones. However, rare is the Primary student who does not control that video game better than many adults.
It is verified with the naked eye in a Primary classroom at the Zurbarán school in Don Benito. Although the scene is common in any school. In this case, the Real Madrid t-shirts triumph among boys and girls, but some from Gimnástica Don Benito also sneak in; some superhero appears in the backpacks. And on one of the front row desks, the name of this video game stars on the case. They are not old enough for those virtual firearms, nor are they old enough to share games with the rest of the users. "The other day some threatened us, 'We are going to catch you and kill you, faggots,' one of the minors relates without hesitation with language that can become common in these games and that, the teacher confirms, is carried over then to the patio. "My parents don't let me play these games," replies a classmate. Although from the reaction of the rest, it seems that he is one of the few who is prohibited from accessing that battlefield.
This scene, common in classrooms, means that these video games have a special section in the talks that the Territorial Citizen Participation Unit of the Don Benito-Villanueva National Police Station has been carrying out for a few years. Manuel Márquez, National Police agent and support official in this unit, is in charge of this. His arrival at the educational center, in uniform, draws attention. "Hello, police!" the little ones shout, excited to receive the agent's response. Although today it will be the 6th grade students who receive Márquez in class. He is something different, she is not his teacher, he is not in civilian clothes and this changes his behavior.
«They tell things that they don't tell at home or to their teachers; "They like to act grown up in front of the police."
«Seeing a police officer gives them the opportunity to tell certain things that they do not tell at home or to their teachers; "They raise their hands with me, they are participatory and they like to be protagonists and act grown-up in front of the Police," he explains after one of these talks that lasts an hour, but in which he is not the protagonist, trying to give a voice to the little ones. . However, on some occasions, the activity has served to detect problems in the classrooms thanks to the students themselves. «They usually talk a lot and, if I see an important situation, I meet with tutors and parents afterwards; If it is considered that it may constitute a crime or there is a minor at risk, the police protocol is activated," argues Márquez.
Bullying, also in its form of cyberbullying, is one of the first parts of this talk. First, making them themselves define what they understand by harassment. The most striking thing, perhaps, is that they tell it with nuances typical of having experienced it not in first person, but up close. Then it's time to talk about the risks they run on social networks. "Is WhatsApp a social network?" their tutor asks them. They are clear: yes, it is. Furthermore, they usually use it with an official group, but also with others in which not all their classmates participate. "But video games like Fortnite have also become social networks because they interact there, often with strangers," she warns.
Collaboration with schools and parents
They themselves are the ones who, little by little, in the conversation, become aware of the risks and how an innocent chat on social networks can lead to a serious situation for which they, due to their age, are not prepared. But who would they turn to in cases where they feel harassed or victims of deception online? "To my parents or the Police," they respond without hesitation, although leaving aside the teachers who, for these little ones, seem to be left out of the equation. "The collaboration of educational centers is important," explains the agent, who considers that the Police are a third leg. He says it, in part, from his experience. However, being a teacher was his first vocation, leading him to study the specialty of Physical Education.
However, he understands that parents should also be in those classrooms and be the first to receive these talks. «There are already two lives, one is real and the other is virtual; "We cannot leave that technological life aside," he warns about the initiative that also includes gender violence in institutes. Likewise, talks are held for other groups such as the elderly, businessmen or vulnerable people.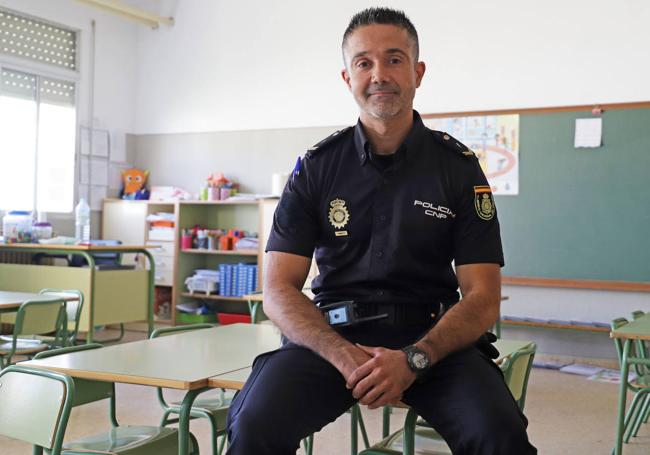 This work of the Citizen Participation Unit has helped Manuel Márquez receive the police merit cross with a white badge a few days ago. He was at the celebration of the Guardian Angels and was also recognized at this event for his track record to agents Francisco Javier Lopez, Francisco Palencia and Jose Manuel Rodriguez.