Saturday, July 1, 2023, 11:15

Cooking a dream. This is what Carlos Carrasco is doing. In just one month he will launch his most personal project, which is why he has named it with his first and last name. The chef and co-owner of the A Velha Fábrica restaurant, as well as the As Pontis oil mill, where Vieiru extra virgin olive oil is made, dares to try haute cuisine in the Sierra de Gata.
He defines his new restaurant, located in the same enclave as the rural hotel A Velha Fábrica, as "a whim." He exudes security and confidence when talking about his creation, which will start in August with seven round tables, well spaced apart, located in a very bright room where only the tasting menu that Carlos has created with care and without fear will be offered. . In Salsa he has tried it and, today, we reveal it exclusively.
The dining room has no distractions. Everything is ready to focus on the food that will appear on the table, dressed only upon our arrival with a long white tablecloth and cloth napkins also embroidered in white with the name of Carlos Carrasco. Esther Larrea is in charge of serving the room, informing about wines and taking care of the diner's well-being during this interesting trip through the Sierra de Gata and its food. The first thing she does is pour water into some very curious glasses. They are tilted and it looks like the water is going to pour out. We have to pick them up carefully and try to keep them away if we gesticulate a lot with our hands… The next thing is to offer us bread. It is from the town's bakery and they have it white, rye or whole wheat. You can choose and change it later if you wish.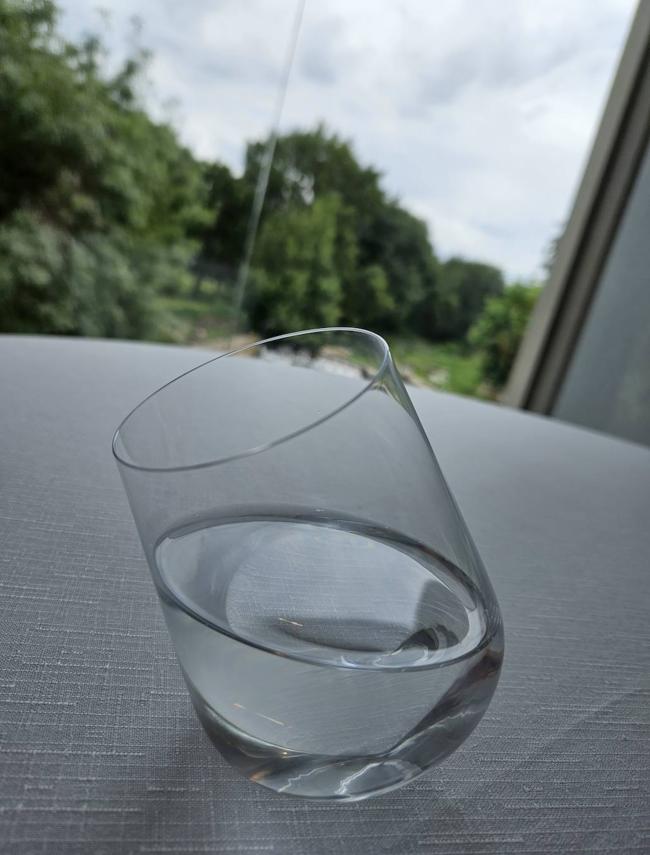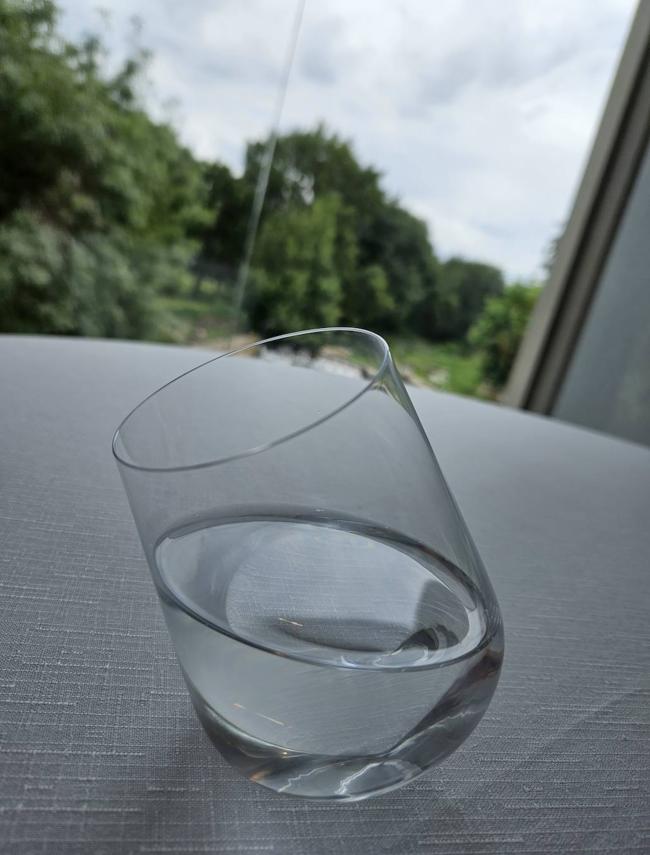 Once we have decided, Carlos appears, who will come to explain each dish, and tells that the best possible start to a meal is to dip the bread in oil. For this occasion, the chef has chosen the 100% organic early harvested Vieiro. On the plate, sprouts and flaked black salt. In most cases, you will come back clean. By the way, all the crockery and cutlery are new and specific for this ambitious project.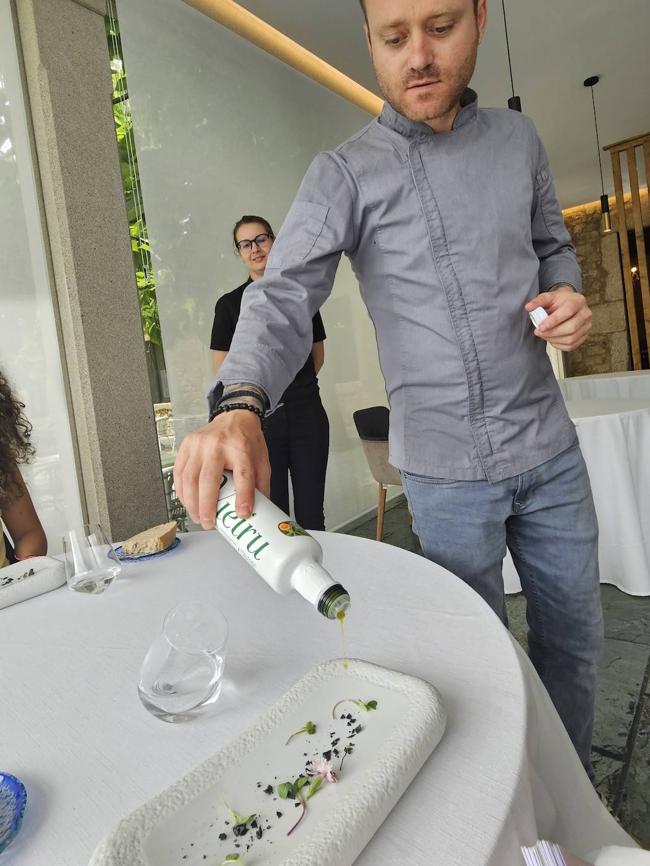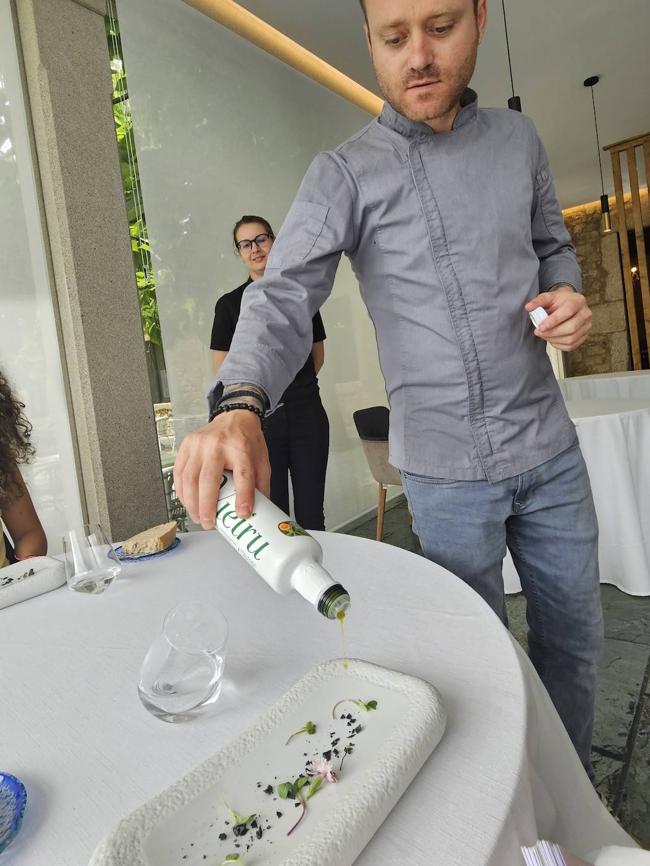 Continuing with the tributes to their tradition in the olive sector and to the region, in the second pass they place an unexpected and extremely visual plating on the table. It is a silver-plated olive tree. It looks like a trophy, but the real prize is the olives that accompany it. They are spherical and dipped in cocoa butter. When biting, a green and black olive juice permeates our entire mouth. Here we are already beginning to assume that the menu is not going to leave us indifferent. On the contrary, it surpasses each dish.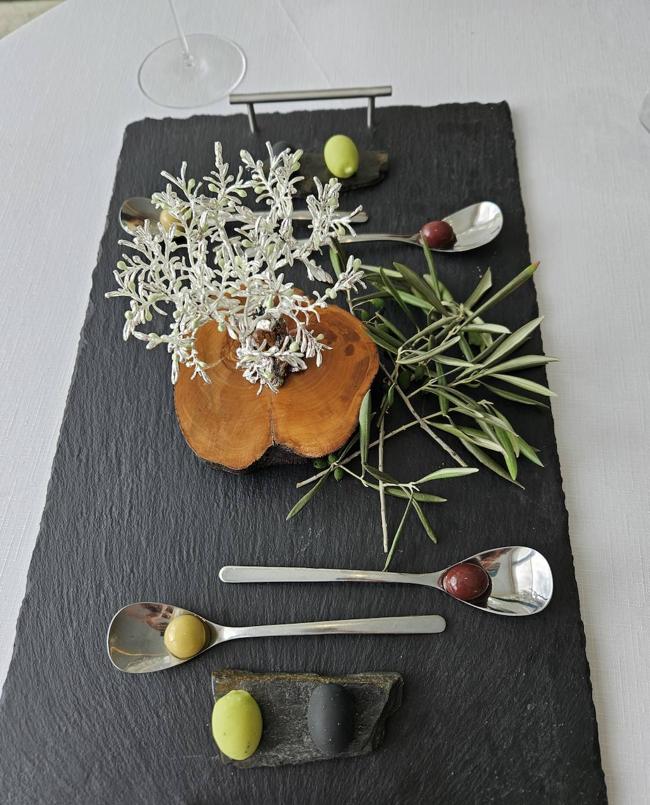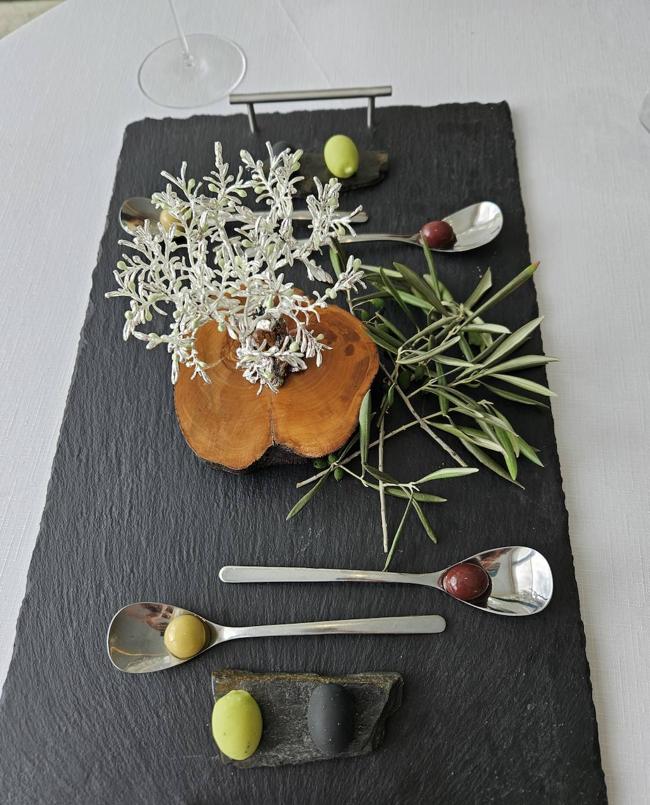 In the third, the cutlery arrives on the table and also an empty glass of cava. They will pour tomato water over it and on the plate, the pennyroyal gazpacho also seasoned with fresh sprouts and flowers. Immediately afterwards, a beet carpaccio and goat cheese spherification with crunchy Iberian jowl will fill the evening with color and flavor.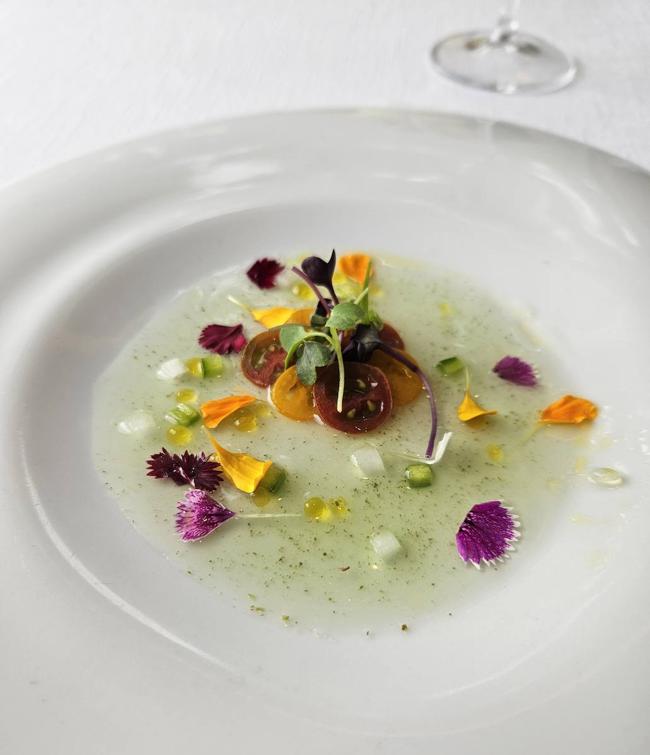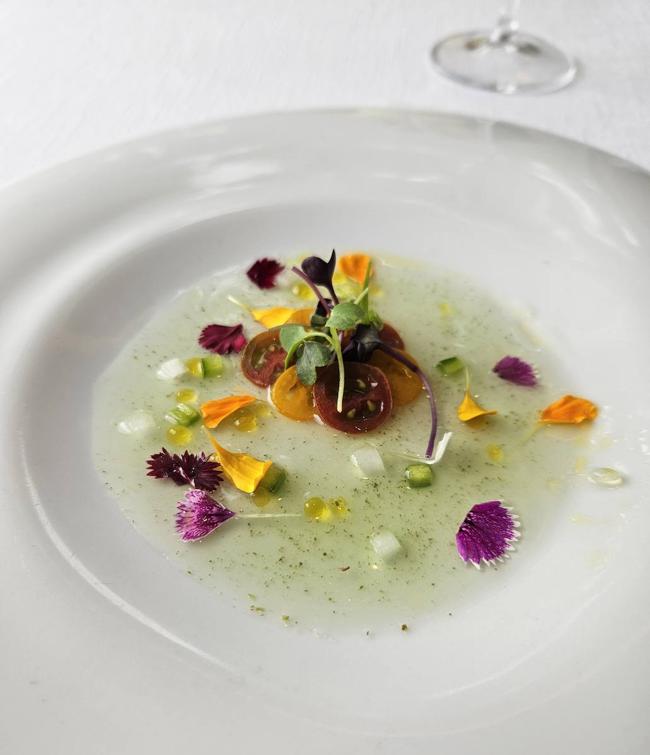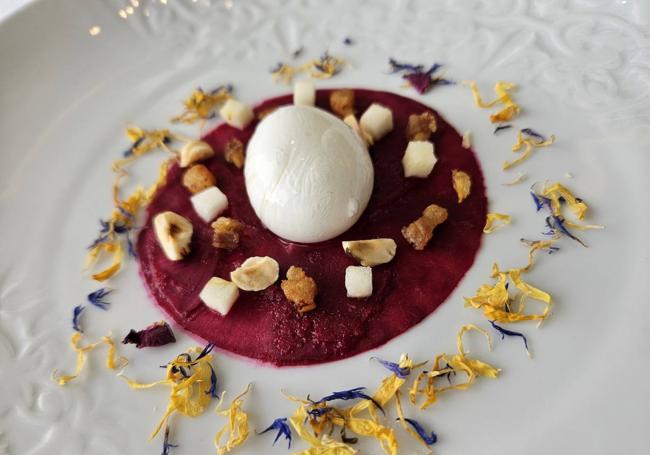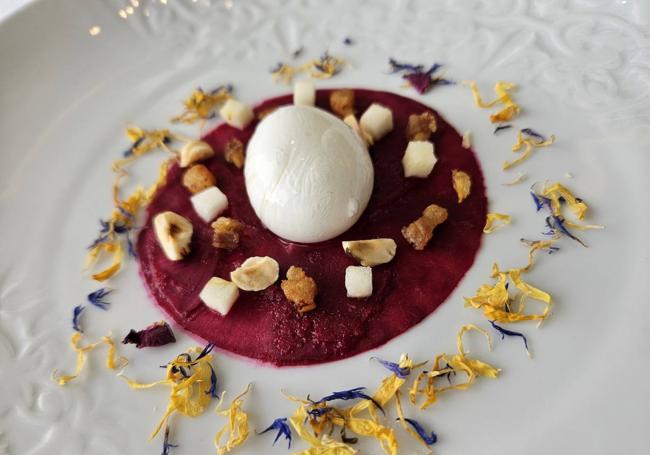 At this moment, Esther recommends switching to red wine, as it is the turn of an exquisite foie bonbon. And later, a deconstructed classic: the mountain goat. It will come in a very new format compared to other establishments in the area: inside a liquid croquette.
There is no shortage of fish: low-temperature crayfish with caviar; the classic 'bacalhau à brás' version that transports you directly to Portugal; squid sabarín in sauce and its ink in the form of gelatin; and cod loin with pilpil.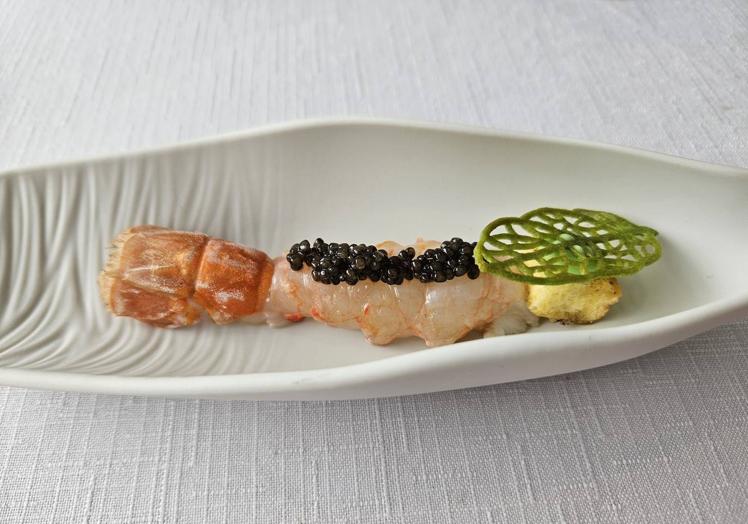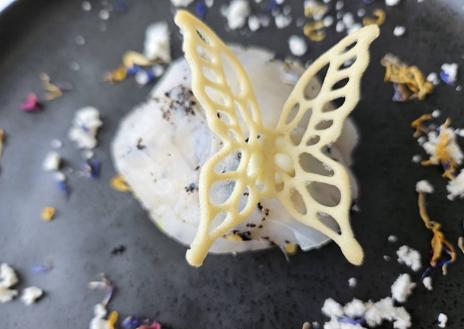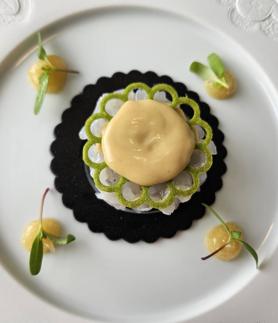 Before dessert, squab with calvados sauce and glazed apple and, finally, a 100% acorn-fed Iberian pork with truffle sauce, French onions stuffed with tomato, bacon and black olive, and sautéed mushrooms.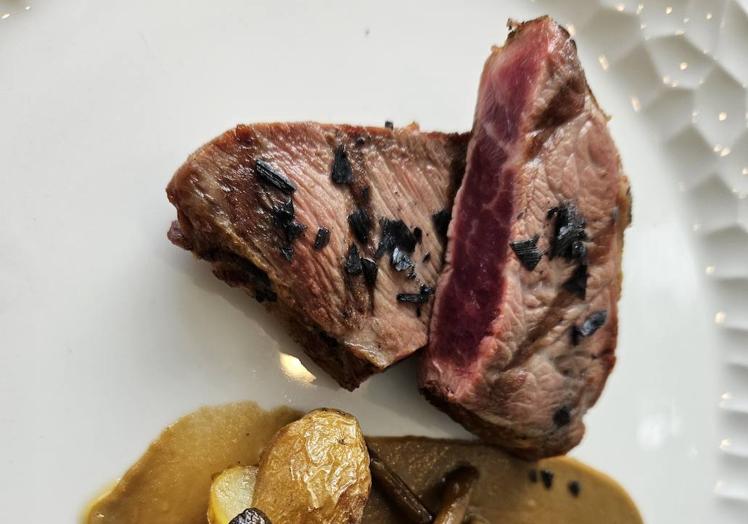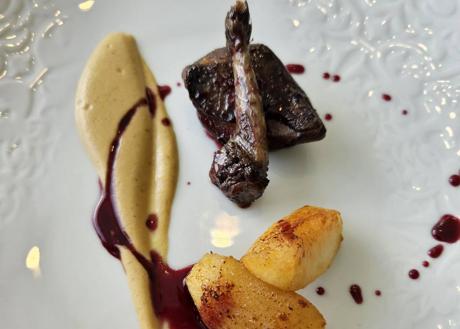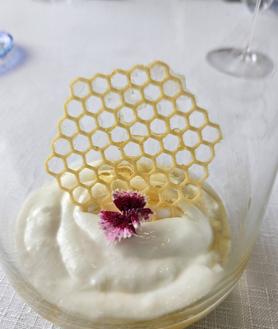 The sweet spot is a honey curd and the only dish it shares with its older sister, A Velha Fábrica, the semi-liquid cheesecake. A very well chosen ending for this gastronomic experience that, without a doubt, will elevate rural gastronomy and mark a before and after in the history of Serraga.