Friday, June 16, 2023, 7:32 p.m.

"Seven years ago I couldn't imagine a restaurant like this in Don Benito." These are the words of Alberto Nieto, chef and owner (along with lawyer Diego Miranda) of Polo Opuesto, one of the leading restaurants in Don Benito. And by "like this" he refers to the new location that has just opened in the city. This is Kozumel, a Mexican restaurant where they offer fusion cuisine and grill meats and fish over oak embers.
And, in addition, they have a new addition to the Polo Opuesto group. This is David Sánchez, the head chef. He not only seasons the tacos, but has also entered as a partner in this new project with a Mexican soul.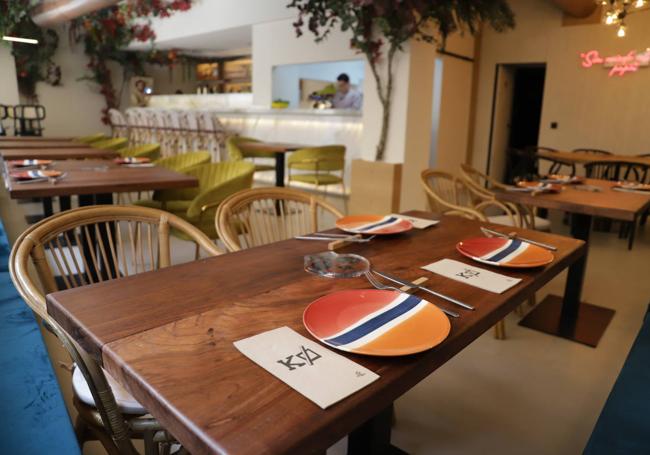 But Kozumel is much more than tacos. It is clear that there is no shortage of the most representative preparations of Mexico, such as quesadillas, tortilla chips, Yucatecan torreznitos or chilaquiles with green sauce, quesillo and fried egg. But it is also possible to find a one kilo Basque cow 'txuleta' or cheeks stewed with mole, smoked corn cream and patacón. For fish, grilled octopus with black garlic-chipotle mayonnaise, shrimp ceviche with coconut milk and cucumber, roast cod with green tomatillo salmorejo… And for desserts, a cheese board; creamy roasted mango with lemon basil ice cream; chocolate ganache or the striking cheesecake with homemade pineapple and habanero jam. They also have Mexican drinks such as tequilas, mezcals, margaritas and the two most emblematic beers, Corona and Modelo. In short, "a fusion of the dishes that we like and what we have been learning out there with a little Mexican touch."
Alberto, by the way, has not had bad teachers. After studying Cooking in Orellana, he went to do his internship in Aldebarán. "That was the first professional kitchen I ever set foot in, about thirteen years ago," he recalls. Afterwards, he went to the Basque Country and combined his higher education studies with his work at Arzak for a year and a half. To cut his teeth in traditional cooking and grilling, he went to Rekondo, where he assures that he has cleaned "a lot of fish." He also worked side by side with Paco Torreblanca and did military service with Paco Morales in Madrid. "As soon as I was prepared in terms of management, I came to Extremadura, because I was always clear that I wanted to open something of my own here." Polo Opuesto opened in February 2016.
On a trip to Mexico he fell in love with the island of Cozumel and its gastronomy and began to forge this new project in his mind and heart. But since the philosophy of his business is to give everything a twist, they renamed it with the 'ka'.
They have a terrace where about 40 people can fit and an interior where 55 eat, decorated in a modern style and a neon that serves as daily inspiration: "No fear of success, dad."