Thursday, August 31, 2023, 18:36

Pepe Cano Cerezo worked in a consultancy in Badajoz, but he was asked to participate in a hospitality project and he jumped in head first. Thus he ran 'La Dehesa de Santa María', a franchise that was present in the Plaza de los Alféreces, in the Guadiana urbanization and in Las Vaguadas. After leaving it, he realized that he liked this sector so he never left it again. He worked at 'Pepe Jerez' and at 'Jamonería del Guadiana', although where he consolidated his career as a renowned Badajoz hotelier was at 'El Dieci9 del Tesso'.
But, just as Don Quixote had his faithful squire, Sancho Panza, Pepe has been accompanied almost throughout his career by his sister Mamen. He started in La Dehesa lending a hand with administrative tasks, but one day when he needed staff in the kitchen, he didn't think twice and jumped in. And, like his brother, he never left him. He also likes the bar, but he feels more comfortable between the stoves, in a second line. Her hobby comes from his father, whom he remembers cooking on Sundays over very low heat. After taking a cooking course in Badajoz he cut his teeth mainly in Madrid restaurants. Now it is a fundamental part of all the projects that his brother leads. The last one is called 'Luzia', in reference to the street where it is located (Santa Lucía). "We really liked how the area had turned out with the single platform and we thought the place had possibilities," says Pepe. That's why they noticed him and went for him.
Four months later and a complete renovation in between, 'Luzia', which does not identify itself as a restaurant, but rather prefers to call itself "kitchen and bar", has a floor that emulates a Roman road, a bar adorned with metal bowls and a certain Ibizan air, although a neon with his name presides over the room. There are high and low tables, columns that saw the light during the renovation and have been left visible, and an Arcano ham from Maldonado on the bar, which can also be used for 'cañeo', since they have a great supply of wines by the glass. In mid-September they will also add breakfast.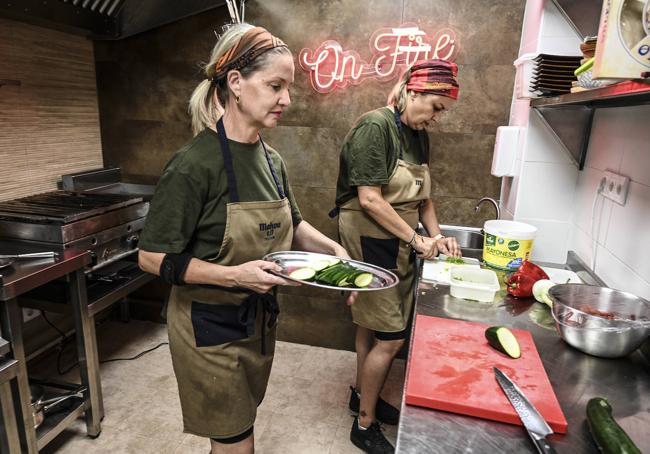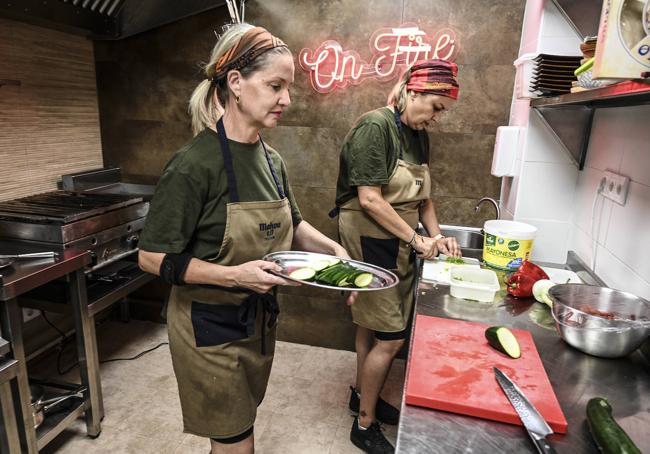 But, in gastronomic terms, although there are dishes that are still maintained from 'El Dieci9 del Tesso', most are new. And Mamen is a restless mind that has not stopped creating and tweaking them during these four months of hiatus. This is a seasonal menu in which there are currently grilled florets on chocolate chip, pesto and parmesan; asparagus buds, mojama and roe; salmorejo with smoked sardine or grilled mackerel loins, but soon, when the cold sets in, Mamen will propose spoon stews and one of its strong points: offal.
In addition, they have inaugurated a production that has already become the flagship of the house. These are the 'juanitos', which are nothing more than the 'La Cubana' buns filled with something new every week. The desserts are also homemade and elaborate, such as the tribute to piña colada or strawberry cut with mascarpone. Likewise, 'Luzia' maintains a classic, which is the dishes of the day. They range between six and ten euros and offer the possibility of eating very delicious and varied meals without ending up as full as with a complete menu. In recent days they have had grilled vegetables, chaufa chicken rice or bifanas… They announce it daily on their networks and on a board located on a street where they have arrived to bring life and quality gastronomy.
Address
Santa Lucía Street, 4

Location
Badajoz

Time
From Tuesday to Saturday from 12:00 to 00:00

Telephone
697 12 18 83

Terrace
Soon