Thursday, August 31, 2023, 7:17 p.m.

After studying an intermediate degree in Cooking in Badajoz, Josemi Martínez Pi from Llerena began knocking on doors eager to work, but always received a "no" for an answer. "I saw that my colleagues were working and I didn't understand why they didn't catch me anywhere," he says. But, instead of getting frustrated, he decided to train even more and cut his teeth in so many restaurants that, years later, he would be the one to decide where he would work. And he has chosen Extremadura. While in high school, he met the Calamonteña woman Mercedes Rincon Santos and together they embarked on a path of profession and life that today is culminated in their gastronomic space Macarraca.
Located in Villanueva de la Serena, it opened at the end of July of this year. It is an open, bright space full of life where Mercedes puts on a Spotify list and the same sounds from Compay Segundo and Natalia Lafourcade. Meanwhile, she straightens a natural flower that she usually wears behind her ear, while straightening a painting that is slightly crooked. They take care of the space as if it were their home. In fact, they may spend more hours here than in her own home.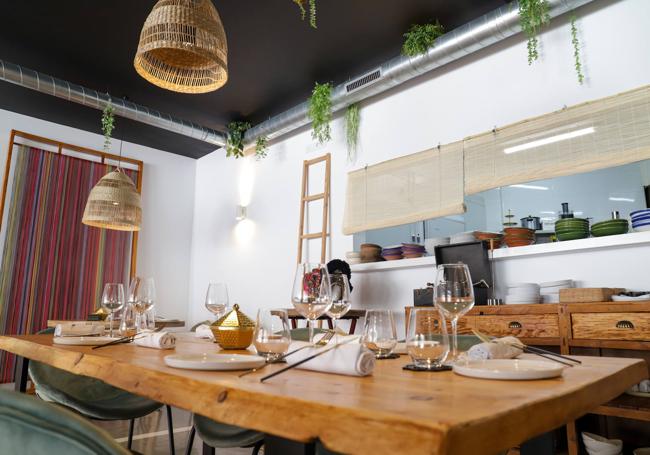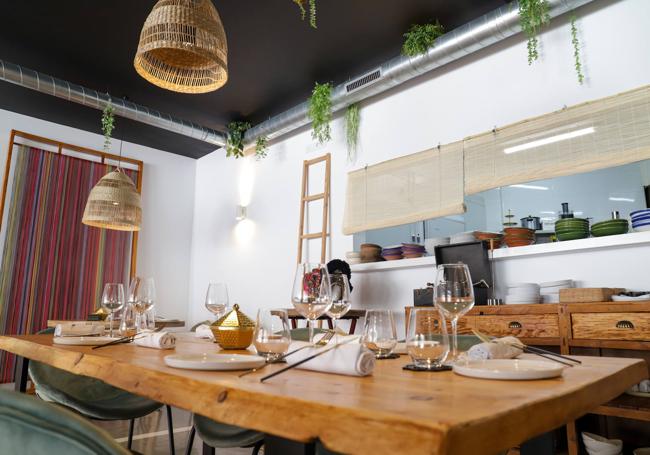 In the five months it took to get the place ready, they have done everything: from the design to a huge tapestry with the colors of Extremaduran folklore. "I am a great lover of folklore and Extremaduran culture," says Mercedes. That is why these typical elements cannot be missing in Macarraca. There are two Montehermoso caps: the galana one (for younger and single women) and the mourning cap (elderly women or widows), many traditional Extremaduran cookbooks, mortars from Josemi's grandmother and great-grandmother, rugs that are reminiscent of the dry Badajoz soil. …In short, everything has been thought out and harmonized in a precise song towards origins and tradition.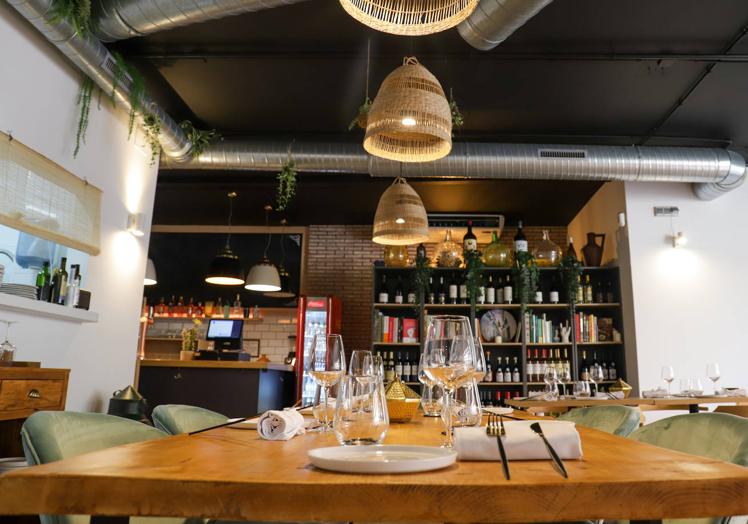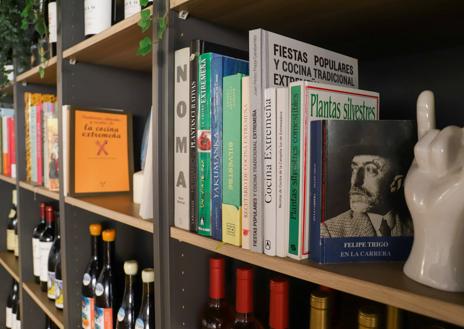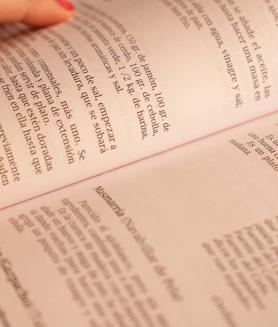 Why do Mercedes and Josemi consider Macarraca a return to its origins? Both have worked in the kitchens of Atrio, Mugaritz, Celler de Can Roca, El Invernadero or the Botánico hotel, among many others, since their traveling nature has led them to accumulate international experience. They have worked in Ibiza, Barcelona, ​​but also in Vienna, Andorra, London… «We went to learn English without having a clue. Maybe they told me 'too much' with the meat and I thought they wanted it more done," Mercedes reviews. "The truth is that we have been in restaurants where the military falls short in terms of pressure, discipline, hours, demands… And because I am a woman I have also suffered machismo in my flesh." For this reason, a year and a half ago, when they had a child and saw how difficult reconciliation is, they decided to start looking for a location for a project that had been brewing in their heads for years. «We went to eat at the places and we saw that we knew how to do the same or even better, but we were afraid because of the investment, but we also saw the restaurants full and we decided to venture out. Furthermore, when I heard Steve Jobs' phrase 'if you don't fight for your dreams, someone will hire you to fight for theirs' my head exploded and it was one of the triggers," explains Josemi.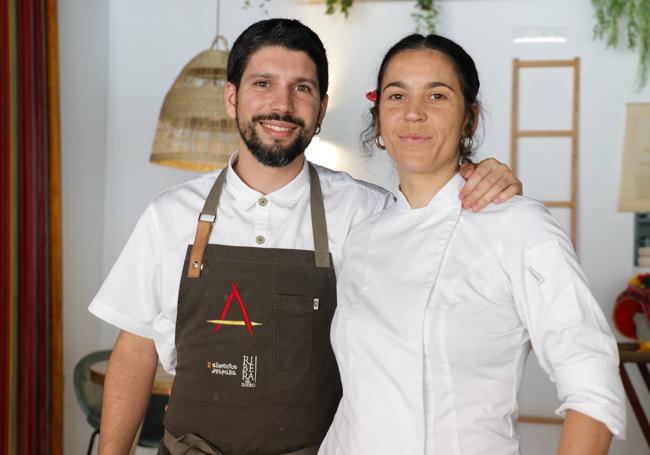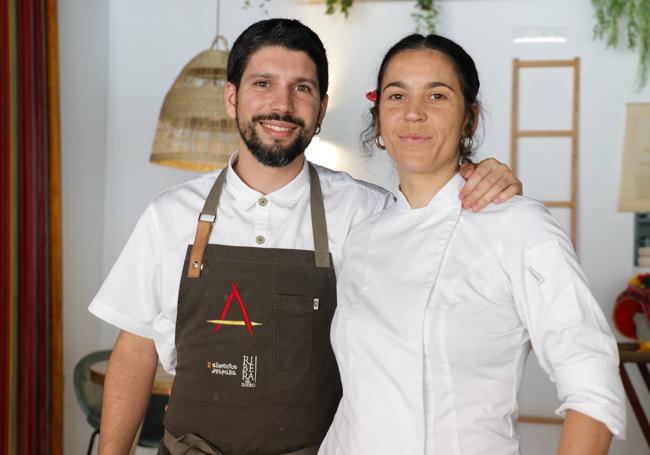 Raw material

«If you go to Mérida, you want to see the Roman Theater. At Macarraca we want that, to let people know where you are. We are in Extremadura, so the name is already a declaration of intentions, since macarraca is a humble dish, documented by Orellana la Vieja. Considered the ancestor of cojondongo, it was prepared by crushing bread, garlic and salt in a mortar, and mixing it with water and a little oil. They assure that they will soon have it on the menu, but they are looking for artisans to make the mortars to plate it as it deserves.
And in Macarraca everything has a reason, even the logo, where you can see the four 'a's of the name and four other faded ones, understanding this allegory as the disappearance of traditional dishes. "In what house do you already make a zorongollo or some sweet repápalos, for example?" Mercedes asks herself. "Now there is a fashion for Mexican food, Japanese food, etc., so we offer local food," argues Josemi.
That is why they have verato kid, eggs from Extremaduran blue hens or meat from the white Cáceres cow, which is in danger of extinction. «They practically become seasonal products, because the farmer kills today, but you don't know when he will do it again. Furthermore, we believe that by generating demand we help them stop being in danger of disappearing," he claims.
The vegetables are supplied by a Magacela farmer, the cheeses are from Cabeza del Buey and all the wines they offer by the glass belong to Extremaduran wineries with minimal intervention. There is, therefore, great interest in sustainability and the environment. "For us it is a long-term project, we advocate self-employment and we want to apply everything we have learned over the almost fifteen years that we have been working abroad."
On its menu there are dishes such as roasted zorongollo, cherry gazpacho, potatoes season, trout escarapuche or, among others, an ensaimada stuffed with potato, in which they combine Extremadura and the Balearic Islands (their last place of work) and which comes served in a box made specifically for them. The equipment is also thought out and filled with meaning, even the coffee is drunk from a pot in homage to those mythical old pot coffees.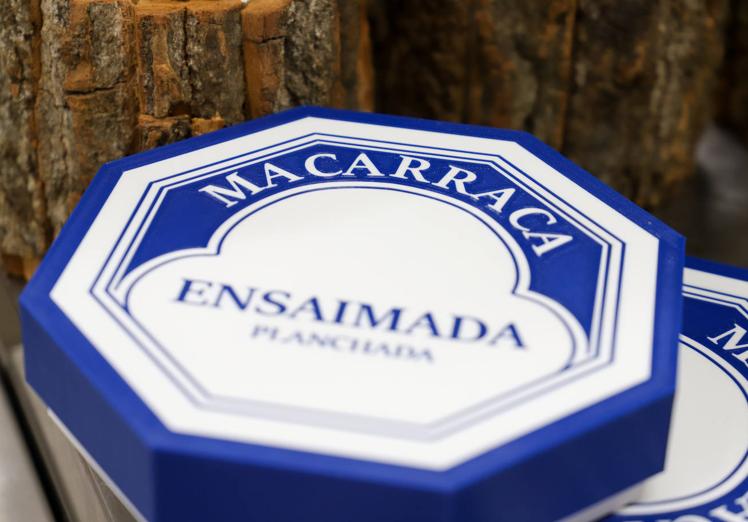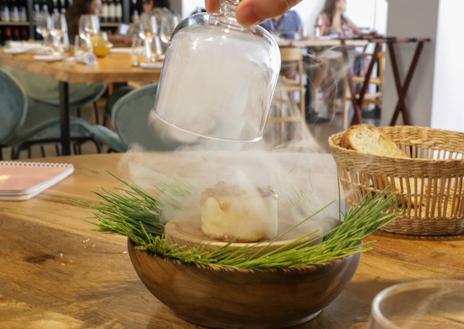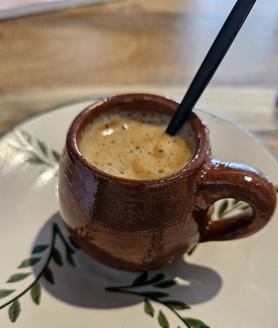 Likewise, they come out of the kitchen and tell each preparation in great detail. "As we do it, we can explain everything that goes into it and, furthermore, I like that people know how extremely elaborate the dish they are going to eat is," Mercedes asserts. They will soon have a tasting menu with which they hope diners will leave and say: "I had a great time."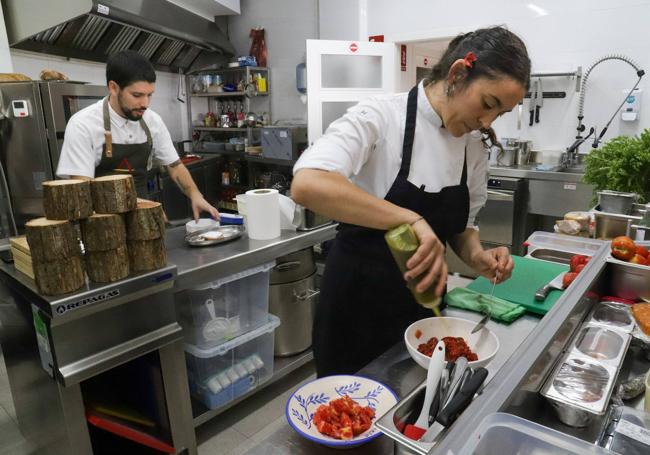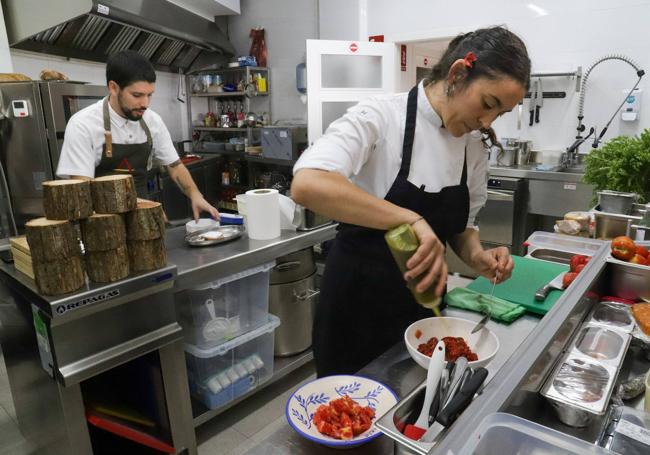 Didactic background

In addition to the vast knowledge they have of Extremaduran anthropology and which they generously share with their clients, Macarraca is not a simple restaurant. On the façade it says 'gastronomic space' and Mercedes and Josemi have many ideas for the future: tastings, master class…They want to fill your stomach, but also your mind.
Address
Navigante Juan Patiño Street, 78 ground floor

Location
Villanueva de la Serena

Telephone
638 478 910

Time
From Wednesday to Sunday from 1:30 p.m. to 4:00 p.m. and from 9:00 p.m. to 11:00 p.m.

Terrace
Soon