The one of Pablo Lospitao (Don Benito, 2005) is one of the names that is beginning to make waves in Spanish cycling. At just 17 years old, he is already collecting victories in the most important events on the Junior calendar. In fact, he is the current champion of the RFEC Spanish Cup in that category; a title that he hopes to revalidate this year.
Little time has passed since, being even more of a child, Pablo Lospitao took his first pedal strokes in his native Don Benito, which this year already recognized his projection with one of the Alaban Sports Awards 2023. It was his father who made this young man, who studied at the Zurbarán school and the IES Donoso Cortés, look at the bicycle with great passion from the age of five. From the Guadiana Circuit he became interested in La Vuelta or the Tour, having Alberto Contador as his then favorite of the peloton.
From the afternoons cycling with his father, he went to the Peña Ciclista Guadiana and the Quintana Proingo, until he ended up in the Electromercantil GR-100, with which it currently competes. But, yes, the bike has to be compatible with studies. For this reason, she moved to Cáceres, Technology Centerand continues his high school studies at the IES Virgen de Guadalupe.
-What has it been like to change from Don Benito to Cáceres?
-Went well. I am with colleagues that I have known since childhood because they also rode bikes and the adaptation has gone very well; Both my classmates and the coach and tutors I have at the center behave very well. I haven't noticed the change much because I'm not very far from home, I come and go every weekend.
-What memories do you have of your childhood in Don Benito?
-As a child I remember always going to the park with my friends, playing soccer and other sports. When I was about five or six years old I started going to see my father to run and see the Guadiana Circuit; When I was about seven years old I did my first race at the Carlos Memorial Square and I really liked it. The following year I got my license with the Peña Ciclista Guadiana. Then I joined the federation and started going to Judex, also taking it a little more seriously because I liked it a lot.
-It is a hobby that comes from his father.
-Yes, I saw my father in the race that takes place for the September Fair and I liked it; I have seen the Guadiana Circuit since I was a child, but there was something that I liked about that race. When I was little he went to train with my father, when he could in the afternoons because it was complicated with work. I went to the range to try to beat him until, as a junior, when I was about 12 years old, I started training practically every day. At 15, a Quintana team signed me and I started with a personal trainer, more and more seriously, until in the Junior category it began to be almost a job, something official.
-At home we will have seen a lot of cycling.
-The Tour de France, La Vuelta, the classics, the World Cup… Everything that could be seen has always been at home and I started to get hooked.
-Did you already have any reference then?
-At first I didn't understand it much, little by little I understood it and when I was a kid the one I liked the most was Alberto counter. Now he's retired and I like him Tadej Pogačar and, of the Spanish, Enrique Mas.
-And he has had others closer, Don Benito boasts a great cycling hobby.
-Yes, for example, I have been lucky enough to film many times with Alberto Gallego on the road, also with the Sánchez Cidoncha brothers. It is important to look at them, as they are a good reference.
-At what point is Extremadura cycling?
-A pretty good one. I have other teammates who are also doing very well, like Javier in the mountains, Iker, Pablo, Jaime and Mario who are also ahead in the races… We have to try to keep regional cycling moving forward.
«When I was little I went to train with my father; he went to the polygon to try to beat him »
-In 2020, Juan Ayuso was the winner of the Guadiana Circuit. You did the same in 2022, do you also see yourself in the Catalan cyclist?
-Juan Ayuso is a reference, he is Spanish and he is barely three years older than me; He is a mirror in which to look at yourself, although you should not focus on a single goal because he is a great runner, but you also have to look at the greats and try to follow in his footsteps.
-What did that 2022 victory mean in your native Don Benito?
-Winning the Guadiana Circuit was a dream. At first I couldn't believe it and then little by little, analyzing the work behind it and all the effort that had been made, it began to be understood. Then came the other victories in the Spanish Cup, I began to believe it more until you think you can be there.
-You know the Guadiana Circuit well.
-I don't know how many times I've thought about it (laughs). In Name it There is always a lot of fans, with friends and family, it is very nice. It is the most special race of the year, it is at home and it is a race that I have always liked a lot. I have already finished the Junior stage here, but I hope to return in Sub23.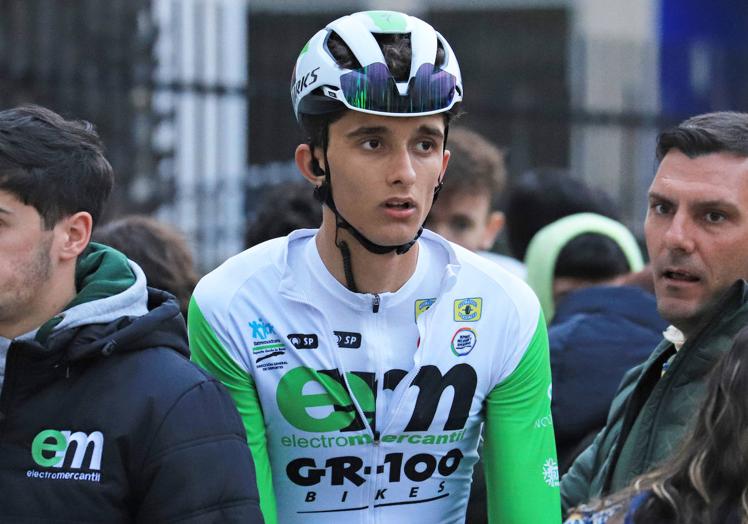 -This year he has also received recognition from Don Benito with an Alaban Award.
-It is a pride that the people recognize me as one of the leading athletes, since I was a child I have been with my father's Peña who have always supported me and taught me a lot to move forward.
-Do you think you can make a living from cycling?
-It's complicated, but we'll try.
-What is your daily life like to combine studies and cycling?
-In the morning I go to the Institute, I come back and eat because around four o'clock we are going to train; Then I rest for a while, have dinner and study for as long as I can. It's complicated, but when you feel like doing something, you do it. Studies are the main thing right now, since cycling may or may not turn out well, but studies will always be there. I am very focused on cycling, but first I have to study.
«The main challenge this year is to try to revalidate the Spanish Cup triumph»
-Where do you want to focus your studies?
-I would like to do Sports Science or Physiotherapy, something related to sports.
-Coming back to the bike, how has the season started?
-I am in good shape, although I could not repeat the victory at the Guadiana Circuit, I placed sixth and placed first and second in the Víctor Cabedo Trophy that continues at the end of March and I hope to maintain the lead.
-What challenges do you set for this season?
-I want to try to follow this line and see if an important team calls. The main challenge this year is to try to revalidate the Spanish Cup triumph.
-Do you also want to repeat with the Spanish team?
-Being able to be with the national team has also been a dream because it is very difficult since there are only ten from the entire country and having the coach count on you for almost all the tests last year has also been a dream for me. There is a lot of level and luck hasn't been very good either, but you try to do the best you can and the experience of being with your teammates, the national team coaches or in the World Cup with the professionals remains that you learn a lot. I hope to receive a call from the coach this year and if we can match last year's performance.