Juan Carlos Ramos
Plasencia
Monday, October 23, 2023, 17:59

Mario Rodríguez, cook at the Gloria Fuertes Early Childhood Education School in Plasencia, was the winner this Monday of the III Espiga Cooking and Gastronomy Contest IGP Veal of Extremadura, organized by Caja Rural de Extremadura and the Regulatory Council of the IGP Veal of Extremadura for "promote the excellence of this certified meat among restaurant professionals in the region."
His recipe, which consisted of an apple millefeuille, foie and PGI beef from Extremadura with beet tartar, green and red curry and marinated egg yolk, achieved the highest rating from the jury in the final of the competition held at the School of Hospitality and Agrotourism of Extremadura, in Mérida. As explained by the jury spokesperson, Rocío Maya, the winner was chosen "unanimously, but very close", since the five finalist proposals surprised the jury "for their originality and quality."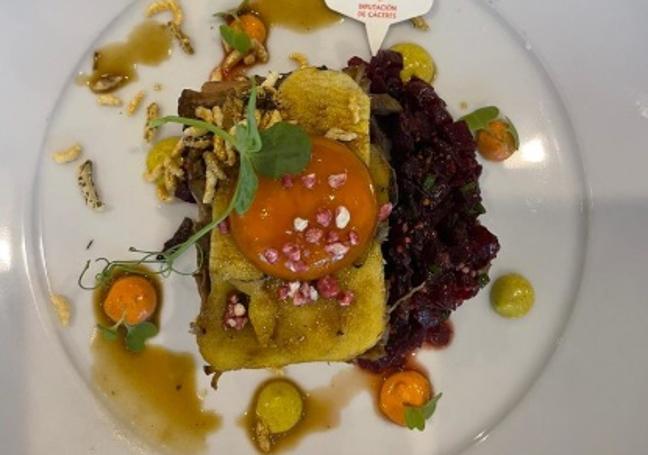 The EI chef Gloria Fuertes received the Espiga Trophy and a prize of 1,000 euros that accredits him as the winner of this contest whose main premise is to prepare a dish that has as its main ingredient a piece of meat certified under the IGP Veal of Extremadura seal, and On this occasion, the piece in question was the tail of the hip (picaña).
For their part, the rest of the finalists have received an honorary diploma and a plaque for the restaurant that accredit their participation in this final, as reported by Caja Rural de Extremadura in a press release and reported by Europa Press.
Specifically, the other four proposals consisted of a patacón of PGI beef from Extremadura presented by Aitor Jiménez, from Restobar 19/91 in Puebla de la Calzada; a ravioli stuffed with beef steak tartare with ramen from Juan Vicente González, from the Chamorro Restaurant in Mérida; «timbale of picaña, tripe and red shrimp cooked by David Domínguez, from La Fabiola, in Cáceres, and a carpaccio of picaña on pickled pumpkin by Abraham Melitón, also chef at Restrobar 19/91.
The jury was made up of Karmele Pellitero, from the program 'Con mucho gusto' on Canal Extremadura; the director of the Municipal Cooking School of Plasencia, Violeta Martín; the secretary of the Extremeña Gastronomy Brotherhood, Fernando Valenzuela, and by the winners of the two previous editions of the contest, Rocío Maya and Gonzalo Serrano.
In addition, cooking teachers at the Hospitality School Alberto Bravo and Francisco Refolio have served as cooking judge and coordinator of the contest, respectively.
These experts in the field have assessed the taste of the cooked dish, accounting for 50 percent of the final score, in addition to the presentation (30%) and the description of the recipe on the sheet, its economic valuation and the correct use and use of raw materials (20%).
Promotion of Extremadura

For his part, the president of the Regular Beef Council of Extremadura, Enrique Muslera, has congratulated the finalists and has encouraged the restaurant sector to cook with beef from Extremadura so that "consumers and tourists who come to Extremadura are always find the possibility of tasting the gastronomy of our land and products of differential quality.
The head of the Business Area of ​​Caja Rural de Extremadura, Juan Ramón Gómez, has highlighted that Extremadura Veal is "another of those magnificent products that help the gastronomic promotion of Extremadura" and has pointed out that the entity will be "always supporting everything "the good things about our land."
Finally, the general director of Agriculture and Livestock of the Government of Extremadura, José Manuel Benítez, has pointed out that in addition to the participating recipes he wanted to highlight "the good work of ranchers and farmers", since "to fill our plates with local products quality they have had to work a lot before.