After starting 2023 with the move from Portugal to England, Pedro Porro is now beginning to be a protagonist in the Premier League. Last season did not end with a good taste in the collective mouth for a Tottenham team that was left out of Europe, but they were months of adaptation and individual growth for the Don Benito footballer.
Now, the collective and the individual go hand in hand for the London team that is having a surprising start to the season. Thus, Ange Postecoglou's men are at the top of the standings after remaining undefeated in the first nine rounds of the Premier League. With seven wins and two draws, the Spurs are two points ahead of second place, Pep Guardiola's Manchester City.
The 23 points accumulated to date represent the best start for Tottenham, which had not had these numbers since the double achieved in the 1960/61 season.
Some numbers in which Heung-Min Son and James Maddison are the protagonists, but so is Pedro Porro, participating in eight of those nine games, all of them as a starter. Ange Postecoglou's ideas and philosophy have convinced fans and players, among them, Pedro Porro who has a new role, although maintaining his position as right back.
«We have a really strong group that has a great family feeling. It is quite obvious since Ange arrived that there has been a unified effort towards the work that he asks of us," the Dombenite footballer expressed a few days ago in statements collected by the English club. "The work we are doing is giving us the results we deserve and we have been happy since he arrived, we are all together as a group and I think that shows when we are on the field," added the young 24-year-old footballer who, despite his good moment, it is not entering Luis de la Fuente's most recent plans with the Spanish team.
Despite this, Pedro Porro is satisfied with the good work he has done with Tottenham. «I am very happy with the start of the season because when you work hard and enjoy everything, in theory, it should go well. Until now, fortunately, everything has been like this, so I am very happy," concluded the man from Extremadura before adding the last victory, 2-0, against Fulham.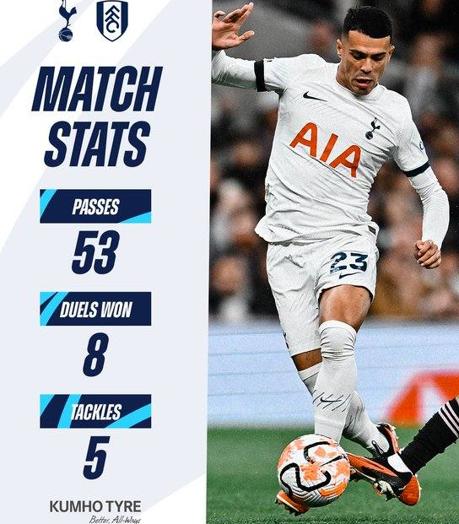 The next appointment for the Spurs will be the visit to the Crystal Palace stadium tomorrow, October 27.