Bitten apple on the outside, but acorn heart on the inside. If it were a riddle, very few would know the solution. Although they could always turn to the protagonist of this story who presumes to have (almost) all the answers. To clear up doubts, you would only have to call her by her name: "Siri, who is an apple on the outside, but a heart on the inside." However, she replies that she is sorry, that she has not understood the question.
The always ingenious Siri, assistant of iPhone phones, cannot find a solution to a riddle that can be solved by the person who provides the voice behind the machine, Iratxe Gómez Casado. The bitten apple part is already resolved, but where does that acorn core come from? Again, he has to ask those so-called smart phones: Siri, where are your parents from? "I don't have a family tree, but I do have a large file directory," she responds in that tone of indifference with which she has been created.
No problem, because your voice does have answers to those questions. "Siri has a little bit of an Extremaduran accent," says Iratxe Gómez, born in the small Basque town of Zamudio where her parents, Mari Casado and Pablo Gómez, arrived decades ago, two zucchini who not only did not lose their roots, but also They also made the family they formed in the Basque Country grow.
Holidays on the Costa Breva
«My mother was from Palomar Street and my father from Pajaritos Street. In the year 69 they got married and came to live in the Basque Country, the three brothers were born here, but every summer, while my grandmother lived, we spent there. I spent summers on the Costa Breva and I have learned to swim in the Guadiana River, especially in the Consiber part," she recalls about those summers on the Extremaduran 'coast' near his parents' hometown. His grandfather, he says, was a gourd through and through and on trips to the Basque Country he became overwhelmed, "he said that he couldn't breathe here, that there were too many mountains and there was no horizon."
They also spent some Holy Week here, "although it is true that at that time the communications and roads were not what they are now. Taking a trip in those days with a 124 and without air conditioning was heroic.
From those summers comes that hint of Extremaduran accent in Siri's voice. "It took me many years to discover that the word swimming pool had that in it, because when I went to the swimming pool it was in Don Benito and I had never heard that word before without an Extremaduran accent involved." And the thing is, her vacation began when she arrived at Don Benito. "We arrived the first day white as piglets and came back tan," he jokes on the other end of the phone, remembering those times when the other young people in the gang teased him about his accent, "he spoke, they said, very finely."
How could their gang friends think that that little voice they heard spending the summer on Palomar Street would be the one years later that gives them directions on how to get, for example, from Don Benito to Eigibide Jesús Obrero where Iratxe Gómez is currently an English and language teacher? Spanish.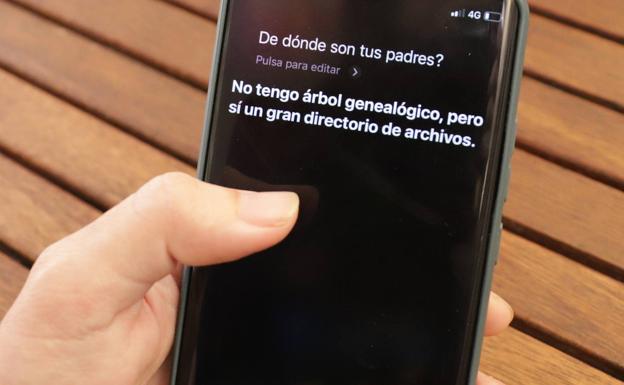 A voice that was born in 2005
With this enigma solved, another important one remains: knowing how to give voice to Siri. It can be said that it was because of the butterfly effect caused by her after sending an email to warn of the problems that she had detected while she was speaking in a text-to-speech converter, a tool known as TTS. That happened in 2005 and shortly after that I was behind a microphone.
"I gave voice to a new text-to-speech converter program that, in fact, is called Mónica because Iratxe did not sell as a Spanish name and they named it after my little sister," he summarizes about this work that, however, did not interest him. He reported the economic benefit that would be expected since it was the company he worked for that Apple bought Iratxe's voice to create Siri.
In fact, she didn't recognize herself in that voice until years later. Since then there have been numerous anecdotes, especially with blind people, "an audience that has your voice incorporated not only as Siri, but also as accessibility to computing and telephony." They are the ones who are most excited to recognize her voice, "like a football fan meeting Messi."
Giving his voice to Siri also allowed him to laugh out loud when heard on television during a Wyoming program. "Then I lived in China, but I still watched TV here, seeing Wyoming having a virtual romance with me was very funny to me."
Another television moment was the episode of Big Bang Theory in which one of the characters falls under the virtual charms of Siri. However, in its Spanish dubbing, Iratxe's voice is not heard. "By the time they made this episode in the United States, Siri was already very famous with Susan Bennett's voice, but here she still wasn't and when that episode was dubbed they didn't have my voice."
Although the most familiar anecdote is in the car where he lived for a few years. And, although Siri is the one that has become most popular, her voice is the same one that works in most browsers. «I'm in every car. In fact, when my son was little, he believed that in each car the mother of each family spoke giving directions," she says, laughing.
A browser in which Don Benito has not typed in more than fifteen years after a failed attempt to return this summer. "I'm looking forward to returning because part of my childhood and many memories are there," he says.
For this reason, she does not doubt what Siri would answer if they asked her about Don Benito: "I would tell you that let's go there but right now!" And, in that virtual apple, an acorn heart beats. "Because you can take an Extremaduran out of Extremadura, but you never take Extremadura out of an Extremaduran."
After these lines, Siri will still have no family tree, but this article will still help you find the appropriate answer when asked where Iratxe Gómez Casado's parents were born.