A good wine comes in through taste, but also through smell, you could even say by touch on the palate and also, of course, by sight. Four of the five human senses are activated when drinking a glass of wine. But what about the fifth? This only usually comes into action if the sommelier is also close to that diner. A figure not always recognized capable of turning the simplicity of a glass of wine into a unique moment. In Extremadura, the best sommelier is Daniel Sánchez Lospitao, who received this award last April and is a native of Don Benito.
At the age of two he went to live in Medellín, but he continued going to Francisco Valdés school and his friends have been in Don Benito. His link with the Metelina municipality, of course, has always been a Quinto Cecilio restaurant to which he now returns after training in a passion of which he has made his profession.
–It is in the Fifth Cecilio where that passion is born.
–I have always been linked to the hospitality industry. I studied at Claret during a rebellious time when I didn't know what to do. And I decided to do administration and finance training at Claret and then I finished with the higher degree at Cuatro Caminos. From there I wanted to continue and I went to London to do a degree in the same subject. At that time he talked a lot with a friend, Sergio Sánchez, who was passionate about wine. At that time I had no idea about wine or that I would like it so much in the future. One day he offered me the possibility of going to his apartment in Valladolid to see the wineries. I went there when I was 18 and saw many wineries in the area. Ribera del Duero. I loved it, I think it is difficult to feel so strongly about a profession in such a short time. Already in London I decided that I wanted to dedicate myself to this.
–The training began.
–Yes, I looked for several courses and ended up at the Wine & Spirit Education Trust in London, one of the most famous in the world. From there, I was lucky and found a job offer with a well-known English chef who took me to meet Dimitri Perucci, who was my mentor and the one who trusted me to develop the profession of sommelier. He did it blindly because he knew that I had no knowledge, but he helped me with the training and then at work we were tasting every day, asking questions, seeing regions and studying. In the end, he became my roommate and my best friend.
–Did you continue your training afterwards?
–Training never ends, that was almost the beginning. After two and a half years in London, I wanted a change to continue learning. A great opportunity arose to return to Spain, I was feeling a little melancholic and wanted to return to my homeland, with Pago de Carraovejas which has a Michelin star restaurant called Ambivium, one of the best known in Europe in terms of wines. I couldn't let that opportunity slip away, so I didn't think about it. Here I met Diego González, another of the key people in my life, who has helped me a lot to get to what I am. He is the current champion of champions who is competing in the Sommelier World Cup in February and he encouraged me to go to the championships and continue fighting. Dimitri in London and Diego here have been two fundamental people, they have believed in me and made me see my potential. Thanks to them I am where I am.
-And now?
–The present is wonderful, I am traveling a lot, seeing many wineries and schools thanks to the award.
–Did you expect that award?
–I was confident, but I never thought I would win first prize since I am super young and everyone has much more experience than me, and it was the first time I entered a contest. It was a very pleasant surprise because I didn't expect it.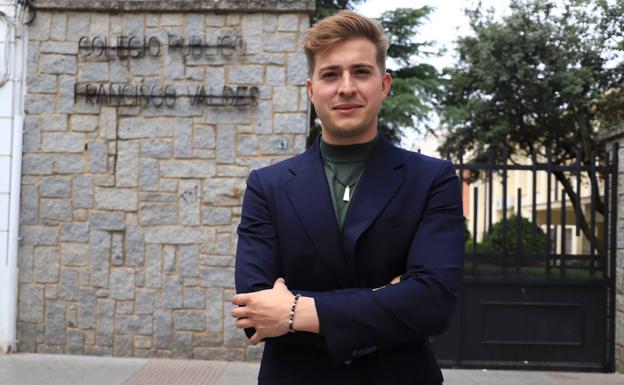 «I think you have to love what you do, continue meeting, traveling, studying and learning from people»
-What is the secret?
–Well, I think that love for what you do is very important because no matter how good you are, if you are not really confident and do not believe in what you are doing, this life is short. I think you have to love what you docontinue meeting, traveling, studying and learning from people.
–And on a technical level?
–It is complicated and you have to study a lot about grape varieties, regions of the world, soil typology, climate, different years… It is complex.
–Now it is time to return to Extremadura.
–I am very excited after so many years away. Return to Extremadura and Quintus Caecilius, who saw me born, is very important to me. I am very excited because we are going to do beautiful things and try to change the culture of wine so that people gradually get closer to the quality and the different wines that we have in Spain and in the world. I want to get a fairly complete winery on the national scene.
«In blind tastings a wine from Extremadura can pass for a wine from Burgundy or a great wine from Bordeaux»
–Also from Extremadura, what are the region's wines like?
–They are very undervalued. The job of the Extremaduran sommelier should be to enhance what we have and give voice to the majority of wineries that are doing impressive work. At a national or European level, it is true that it is more complicated to give us visibility, which is why the Extremaduran sommelier must also give voice to the great wines we have because they are of great quality and very good wineries. In blind tastings, an Extremaduran wine can pass for a Burgundy wine or a great Bordeaux wine.
–Hence the importance of the sommelier.
–What we want is for the customer to come to our restaurant to enjoy an experience, not to come to eat somewhere else, but to come to enjoy a different experience, on any given day. I think it's nice to be able to go and have a simple wine, but leave with that wine story told; or to eat any dish, but leave with something different from there.
–That important pairing that is talked about so much.
-Exact. Many times we lack the knowledge to say what wine we would like and we ask perhaps for a sweet, dry or semi-dry white wine, but because we don't really know what we like. Our mission is also to help diners identify their tastes and that is why I will also be there to try to help everyone find their wine or type of wine that they love.