A Ford T manufactured the same year that the Titanic sank, 1912, immediately takes the visitor on an unimaginable journey through time that begins next to the Don Benito train station where the Automobile Museum is located. A few meters from that relic that still works today is a Ford Anglia that still retains the name of its owner, an English taxi from the 1930s, the horn of a Ford A that still maintains its sound almost intact to that of 1932 or a vehicle from the German army from 1956, "also a Renault Gordini known as 'the widow's car' because it has a rear engine, it had little stability and a lot of power, so it went around cornering." Remember Antonio Pavo, owner of a collection of more than 300 vehicles, with the sparkle in the eyes of someone who speaks of a passion.
His trips for work motivated him to develop a hobby that began with a 1932 Ford A, "one of the ones I have used the most." However, despite visiting the automobile fairs in Barcelona, ​​Madrid, Valencia or even Paris, he bought that first vehicle in Don Benito and with it he participated in many of the routes that ran throughout Extremadura.
Thus began a collection that little by little grew until it reached the first thirty that were initially stationed on Vapor Street; Later he bought some warehouses "with twenty thousand square meters" that soon became too small. Thus, this museum emerged in 2014, which is a must-see in the municipality and which brings together a selection of about 80 classic vehicles. "In addition to 35 motorcycles, some of them with sidecars, tanks and fairground cars, tractors, trucks… Everything that has wheels…", says Pavo, laughing, who, at 80 years old, has spent more than half his life collecting that part. of history that each vehicle hides.
A collection in which each car is different and it is difficult to keep just one. "This is like children, I am fond of 300 cars, but there is a very rare 1912 Ford T that is a true gem," he explains about his oldest vehicle that is located right at the entrance to the museum. "It's special because Ford was the manufacturer that revolutionized the automobile world, but it made many versions and this one in particular was very limited because it has a seat in the back that is somewhat strange."
Stories and memories
Three hundred vehicles with their three hundred stories that invite you to travel through time without leaving Don Benito. "Here there are vehicles that have been through world wars, civil wars, but also more personal experiences," he explains on the tour of a museum that also collects his own experiences and memories. "One day in Don Benito I was lucky to find four vehicles from the 20s and 30s, two Ford Anglia, one of which belonged to the former owner of Maderas Romero, and two Citroën and Ford trucks," he remembers about this purchase a few meters from a white Rolls Royce that usually attracts the attention of visitors, but also of those who continue to create stories, for example, arriving in it to their weddings. Rental for this type of links is one of the services that the museum also offers.
"Here there are vehicles that have been through world wars, civil wars, but also more personal experiences"
The history on four wheels is also reflected in two other Ford Ts from 1917 and 1918, with different bodies; or a Ford A "which was a more advanced model in the 1930s, a curious car because the gasoline drops due to its weight and still today it starts on the first try."
Vehicles that give way to others from the 50s with brands such as Primus, Chevrolet, Fiat, Simca… «There are some impressive ones with a lot of details for the time that make me very excited; They are all wonderful, I like them all, but the older the better," he confesses, although he acknowledges his predilection for the Americans.
Wanting more
But for this collector of motor memorabilia, the hobby continues with the same passion it began. "Now we are adding vehicles from the 60s, 70s and 80s that the new generations no longer know," he says in a museum that has long since become too small and that receives visitors from different parts of Extremadura, but also from the Basque Country, Madrid or Catalonia mostly seduced by the good references of those who already know it. "The cars that attract the most attention of visitors are the American ones, and in addition, I give them some details during the visits and ask them questions that almost no one gets right," he says excitedly.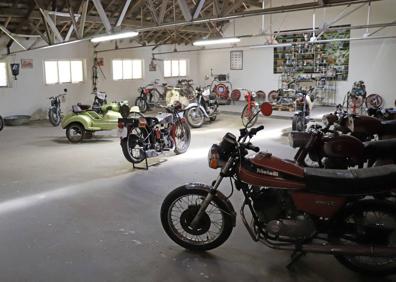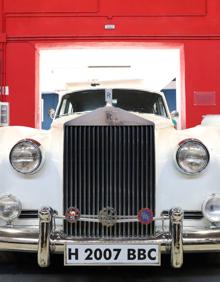 «More than having the collection, what is most fulfilling is being able to show them, which is why it is important for me to be able to expand this museum space and make it one of the most important in Spain. It would be my dream because when I bought that first Ford A I did not expect where the collection was going to end up," he dreams, leaning on a Soto Custom that one day belonged to a French photographer.