The first details of the UEFA Men's Under-19 Elite Round are beginning to be known, which will be held from March 22 to 27 in Extremadura. It is worth remembering that a few days ago the Royal Spanish Football Federation designated the towns of Don Benito and Villanueva de la Serena as venues for this qualifying sector prior to the U-19 European Championship.
Spain, Denmark, Ukraine and Luxembourg will be the national teams that will face each other in this Elite Round, all of them framed in Group 3.
In total, there will be six matches divided into three days that will be held to determine the name of the first classified in the group that will directly access the Final Phase of the European Championship to be held in Malta. The matches will be played alternately at the Vicente Sanz stadiums in Don Benito and the Villanovense stadiums in Villanueva de la Serena, with venues already assigned for each match, with their schedules yet to be established.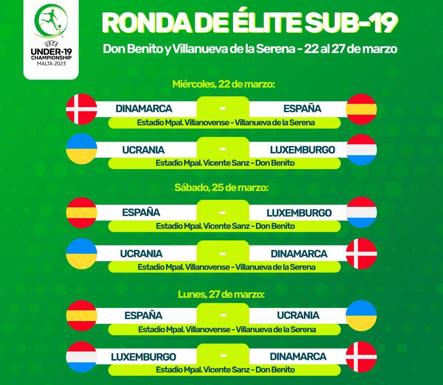 Specifically, Spain will debut on the 22nd against Denmark in the municipal Villanovense; while that same day Ukraine and Luxembourg will meet at the Vicente Sanz. On Saturday, March 25, the Vicente Sanz will host the duel between Spain and Luxembourg and the municipal Villanovense will host the Ukraine-Denmark. Finally, Spain-Ukraine will be played in Villanueva and Luxembourg-Denmark will be played in Don Benito.
All information about these schedules, as well as information regarding the sale of tickets for the matches, will be announced in the following weeks by the RFEF and the Extremadura Football Federation.