Tallinn, Eindhoven, Tórshavn, Madrid and… Don Benito. Hundreds of kilometers of flight that Jesús Gil Manzano (Don Benito, 1984) has made to fulfill his commitments as an international referee so far in September. The most comfortable thing for him would be to live in Madrid, however, he refuses to distance himself from his town, its people and its streets, like the one in Antonio Maura that has seen him grow up. A city from which he distanced himself only to study Environmental Sciences, a career that in his youth he saw as having more opportunities than Sports Sciences, which he has always liked.
–He has always been clear that he wanted to be in Don Benito.
–I even considered going to live in Madrid, now that the VAR demand means having more trips, but I decided to stay. I have my life here, with my family, my friends and my training places. Here the only option I have is by car and to travel by plane I have to calculate leaving five or six hours earlier, when in Madrid it would be one hour away. Extremadura is not very well connected and I do have that road, but I prefer to sacrifice those three hours you have to Madrid by car and continue living where I feel good.
–What does this Tierno Galván park mean in your life?
–I started doing athletics here when I was nine years old, I have trained day in and day out, whether hot or cold. Before there was not that 'running' fever that there is now, there were very few people, but we did have a group of friends who, in fact, are still my friends. This contributed to athletics being my way of life.
Your comfort zone
«Here I arrive and I meet my people, coming to this park to run makes me disconnect from everything»
–I dreamed more of being an athlete than a soccer player.
–Not a footballer, I was clear about that, I knew about my abilities (laughs). But I did make athletics compatible with refereeing. When I became a cadet I began to excel in athletics, I became Champion of Extremadura. I started in refereeing very young, at 11 years old, and I also managed to excel. I moved between the two waters always trying to do the best possible in both disciplines. At 17 years old, I came tenth in Spain in the 5,000. But when I got to university, athletics already required much more sacrifice, I continued practicing it, but I focused more on refereeing. Then I was in the Third Division, a category to which I also arrived very young. I wanted to take advantage of that train and that was really when I chose.
–At 11 years old, in Don Benito, one decides to be a referee, why?
–It was my brother, who one day came home saying that he wanted to sign up and that I should sign up with him. At 11 years old you are not very aware of the resources you have either. I remember that back then you had to buy your own clothes, the salary savings I invested in my first referee suits. In my first match I earned 600 pesetas as a linesman, my parents gave me 300 or 400 pesetas as pay. I got home and told my father, "Look, I've earned 600 pesetas!" My parents have always let me manage myself, that's a good thing, because they have always been supportive, but they have taught me to value money. Although that has never moved me, in refereeing it motivates me to want more, progress and learn category after category.
The beginning
«I invested the salary savings in my first referee suits»
–How much gasoline do you have left?
–It is true that travel is very tiring. Since I was named an international referee I have noticed that it is becoming more and more difficult, you spend a lot of time away from home. I am 37 years old, with a fairly healthy life, and I feel very strong. Above all, because at the end of a career is when you start to reap the fruits of your work. The great championships, I always say, are yet to come. That helps you continue working and I hope I have a long time left.
–And what goal would you not like to leave unfulfilled?
–Being able to enjoy a championship like the Euro Cup or a World Cup, I think is fundamental. But we must not forget to continue enjoying the League, a very beautiful competition and the fact that it is regular does not stop it from being extraordinary.
–And in terms of the past, can you only keep one game?
–The Copa del Rey final, it was my turn in 2018, Barcelona against Seville. It is the most beautiful game that can be played. When you talk to the veteran referees they all said it, but until you hear it in person you don't know. I was happy that day. It was the most special, my face still lights up when I talk about that game. Plus, it was my family. I would keep that one, without detracting from the rest.
–It will not be easy for the family to be in the stands.
-No, it is not. I don't like them to go because I am focused on what I do, I have the ability to do it, but I understand that there are moments and situations that can be unpleasant for them. Let them be there in person and be able to listen or notice that you are not doing well in the game. The insult is not necessary for them to have a bad time, sometimes it is the performance itself.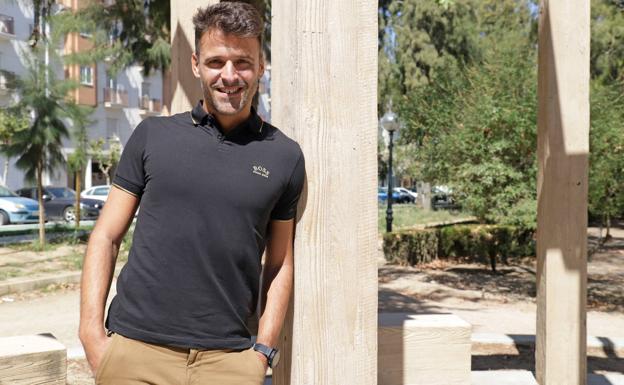 –And where do you see yourself once you 'hang' the cards?
–I would like to continue linked to football. Many times we have, in quotes, the age to retire at 45 years. But it doesn't mean that you're going to arrive at 45 years old because one season will change everything you've done. I don't know what will happen, but I have been living off football all my life, practicing sports all my life… Logically, I would love to maintain the link with refereeing.
–Will the future be in Don Benito?
-I'll try. When I finish a game I look forward to returning to Don Benito, because it is like a comfort zone. Here I come and meet my people, they know when they have to talk about football and when not, coming to this park to run makes me disconnect from everything… No one is a prophet in their own land, but I feel very loved here.